About the Series 250 Parochial Elementary School Diploma
The Series 250 Parochial School diploma is a quality personalized diploma. The cover includes your design choice on a brushed gold metal logo plate plus your school name. The diploma sheet is personalized with your school name, student names, date of graduation, and the number of signature lines and titles you request.

Series 250 School Diploma Specs
Recommended:

Parochial Schools

Style:

Completely personalized diploma with a classy look.

Closed Size:

5 1/2" x 8 1/2"

Cover Colors:

Black
Blue
Red
Green
Maroon

A brushed gold plate is affixed to the lower left corner. Choose from five standard plate designs or add your school logo for an additional $1.00 ea.:



In addition, your school name is imprinted beneath the metal plate in gold foil.

Diploma Sheet:

The 8½"x11" gray parchment diploma sheet is printed on the top half in blue/orange lamp of learning. Included is the Scripture verse, "Teach me knowledge and good judgment, for I believe in your commands" Psalm 119:66. Surrounding the diploma sheet is a second translucent sheet. This sheet may be personalized with your class verse, hymn, motto, flower, song, colors, etc.

Elastic Cord:

Gold. Included in diploma price.

Parts to a Set:

Cover, metal logo plate, diploma sheet, translucent cover sheet, chord, and envelopes.
Graduation Program Covers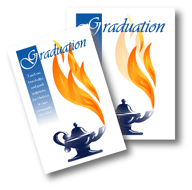 Kremer Resources also offers graduation covers that work well for any parochial school graduation.
$12.85 per pack of 100 (11")
$13.90 per pack of 100 (14")
Imprinted Tissue Sheet
(see larger image at the bottom of the page)
Personalized see-through sheet (may include class roster, hymn, verse, colors, flower, etc.)
Cost is $35.00 regardless of quantity
Diploma
(see diploma sheet at the bottom of the page)
Price includes diploma cover, metal logo plate, gold cover imprint, personalized diploma sheet, blank tissue sheet cover, chord, and envelope.
Choice of cover color and logo plate. All diplomas are personalized.
Cost is $13.10 per student