About Kremer Childrens Christmas Service Programs
Thank you for considering a Kremer childrens Christmas service for your church or school. Becuase this childrens Christmas service is fully reproducible, we cannot provide sample pages of the entire program. We have, however, included the opening introduction page, plus the first and last parts of each Christmas service. This should give you a good idea of the service structure.
Each childrens Christmas service comes with:
Reproducible Teacher/Student Score sent to you via the Internet. (Both scores are formatted in PDF - the Student Score is also in Word format.)
Sing-Along/Accompaniment music sent via the internet as an MP3. (You will need proper software to change the internet MP3 versions into a listening CD.)

"The Very First Christmas" Childrens Christmas Service Description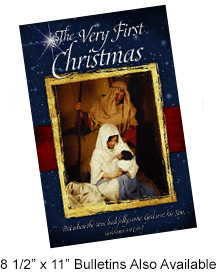 Grades: K-9
Length: 50 Minutes
Group Size: Any
This childrens Christmas service is based on time travel. In it we'll travel from our children's service being presented this Christmas to The Very First Christmas Service that took place in Bethlehem over 2000 years ago. There we will visit the first Christmas church, meet the first Christmas worshipers, hear the first Christmas choir sing the first Christmas carol, listen to the first Christmas sermon, and witness the first Christmas offering.

To enhance the theme of going back in time, this service is actually a collection of bits and pieces gleaned from a historic collection of children's Christmas services owned by Kremer Publications, that date back as far as the late 1800's. That means songs, recitations, poems, responsive readings, and prayers are from these early worship services. Each of the five service sections is also introduced by an elderly Christian who relates his or her memories of children's Christmas services in which they once participated.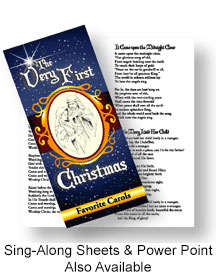 Part 1: THE VERY FIRST CHRISTMAS CHURCH & CONGREGATION
Part 2: THE VERY FIRST CHRISTMAS CHOIR
Part 3: THE VERY FIRST CHRISTMAS VISITORS
Part 4: THE VERY FIRST CHRISTMAS SERMON
Part 5: THE VERY FIRST CHRISTMAS OFFERINGS
VISUAL – A PowerPoint is included that can be shown during the pre-service sing-along. This
PowerPoint includes historic photographs of some of our churches decorated for Christmas that date back as far as the 1860's. (NOTE: If you order the download version, the powerpoint disc will ship separately.)
VISUAL – Template is included for banner
SONGS – Five children's songs with sheet music. "God Loves Me Dearly" is in German/English
CD – All children's songs on sing-along/accompaniment CD
WORSHIP SERVICE BULLETIN TEMPLATE – Yes
ADVENT SERVICE OUTLINES – No
OTHER – This service is compiled from several children's services dating back to the 1800s.