About Kremer Childrens Christmas Service Programs
Thank you for considering a Kremer childrens Christmas service for your church or school. Becuase this childrens Christmas service is fully reproducible, we cannot provide sample pages of the entire program. We have, however, included the opening introduction page, plus the first and last parts of each Christmas service. This should give you a good idea of the service structure.
This childrens Christmas service comes with a reproducible Teacher/Student Score sent to you via the Internet. (Both scores are formatted in PDF - the Student Score is also in Word format.)







The "What Child is This?" Childrens Christmas Service Description
Grades: K-9
Length: 50 Minutes
Group Size: Any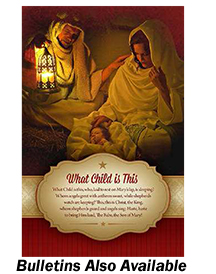 Kremer's newest Children's Christmas service is based on the question asked in the well-known Christmas carol, "What Child Is This?" The children present the service through the creative use of numerous questions. These questions about our Savior are asked and answered by the children as they share the where, how, when, why, and what of Christmas. Your children will enjoy this unique approach, and visitors and parents will certainly be led to discover the answer to "What Child Is This?"... "This Is Christ the King!"

Each What Child is This service part includes familiar and new carols plus recitations and narrations. Written for preschool through grade eight and designed for any size school or Sunday school, this service truly presents the wonder of God's grace that came to us that first Christmas.
Part 1: WHERE DID IT BEGIN? Theme verse: "What is this you have done?" Genesis 3:13

Part 2: HOW DID THE NEWS SPREAD? Theme verse: "Who has believed our message and to whom has the arm of the Lord been revealed?" Isaiah 53:1

Part 3: HOW DID THE MIRACLE HAPPEN? Theme verse: "How will this be since I am a virgin?" Luke 1:34

Part 4: WHY DID JESUS COME AT CHRISTMAS TIME? Theme verse: "Did not the Christ have to suffer these things and then enter his glory?" Luke 24:26

Part 5: WHAT DO WE DO WITH JESUS? Theme verse: "What shall I do, then, with Jesus who is called Christ?" Matthew
27:22
VISUAL – Graphics for a church banner included in the program.
SONGS – Preselected children's songs including sheet music. There are also over 60 Kremer songs with sheet music and mp3 accompaniments to choose from for individual purchase. (Listen to them by clicking this link)
CD – All worship text and children's recitations included in the program.
WORSHIP SERVICE FULL COLOR BULLETIN – 11" while supplies last.