The Noah's Ark VBS Program Theme
Most children have at least a passing idea of the story of Noah's ark. It's often presented as a fun Bible story, and you can't miss the cutesy, round ark with the giraffe's head poking out the roof on wallpaper, light switches, games and toys. Sadly, many children have little or no concept of the truths behind the real story. The purpose of this Noah's ark VBS program is to give the children a true account of this story, along with five other parallel Noah's ark VBS stories that reinforce the Bible truths of the flood account. Children will also enjoy the opening Noah's ark VBS devotion presentations by members of Noah's family.

The Noah's ark VBS course is priced higher than the other courses because it includes a 6-foot model of the ark that the students build. This course also highlights a special Noah's ark VBS musical that the students learn throughout the week in place of songs. This makes an ideal parent or church presentation after the school has completed.


DAY 1: GOD IS JUST
Noah's presentation: God was just in destroying the world with a flood.
Classroom story: God was just in Achan's judgment at Jericho.

DAY 2: GOD IS GOOD
Shem, Ham, and Japheth's presentation: God was good to Noah and his family.
Classroom story: God was good to baby Moses and his family.

DAY 3: GOD IS OUR GUIDE
Noah's wife's presentation: God showed Noah how to build an ark to save his family and the animals. Classroom story:God showed Moses how to build a bronze snake to deliver God's people.

DAY 4: GOD CARES
Noah's presentation: God cared for Noah and his family while in the ark.
Classroom story: God cared for Elijah during a famine.

DAY 5: GOD KEEPS HIS PROMISES
Noah's Presentation: The Rainbow Promise
Classroom Story: The Ascension Promise

Noah's Ark VBS Program Details
As with all Kremer VBS programs, there are lessons ranging from preschool through adult. This means that the Noah's ark VBS program can be used for a standard Vacation Bible School or an evening Family Bible Week. The lessons have been specially written to present the children with the pure message of law and gospel. With the purchase of the program you will receive all lessons in black/white and color. There are also duplicate lessons based on either the King James Version or New International Version (1984).



The Let's Build an Ark Vacation Bible School program is entirely reproducible. This means that all Noah's ark VBS materials on the disc can be printed, duplicated, and used as often as you wish. The only restriction is that the programs are not to be resold.
Every Vacation Bible School lesson comes with a complete teacher's guide and a special "Background and Application" study guide. Full color pictures recommended for lower grade classes are also included.



THE NOAH'S ARK VBS COURSE INCLUDES
| | | |
| --- | --- | --- |
| | ACTIVITY SHEETS | |
| | ARK MODEL | |
| | | |
| | YOUTH AND ADULT SESSIONS | |
| | STORY BACKGROUND AND APPLICATIONS FOR TEACHER STUDY | |
| | TEACHER GUIDES | |
| | COLORFUL TEACHING PICTURES | |
| | PARENT LESSONS | |
| | MUSIC | |
| | SNACK IDEAS | |
| | DECORATION IDEAS | |
| | GAME IDEAS | |
| | CRAFT IDEAS | |
| | PROMO AND FOLLOWUP SUGGESTIONS | |
| | INTERNET SUGGESTIONS | |
| | LOGOS FOR ADVERTISING | |
| | TEMPLATES FOR MANY ADDITIONAL ITEMS | |
| | OPENING DEVOTIONS | |
Build a 6' Model Ark!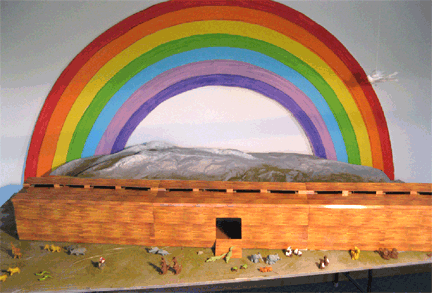 A big part of this Noahs Ark Vacation Bible School curriculum is to give the students an opportunity to work together in building a fabulous ark model. The six-foot heavy paper ark is included with the purchase of the course. (Downloaded program orders will have the model shipped separately at no additional charge.)

The Noah's Ark model design includes complete instructions for building the ark, designing the 4' x 8' platform it rests upon, making the animals, and painting an 8' rainbow as a backdrop. This model should be displayed for friends and visitors on the final day of VBS. Be certain to take photos of your children or classes standing beside the ark model!